How to learn to walk in heels – simple and proven methods
Not every girl can walk confidently in stilettos and look graceful at the same time. Especially if most of the time you have to wear comfortable flat-soled shoes. At least half of the female population at least once wondered how to learn to walk in heels, without looking comical and ridiculous. In fact, in order to feel confident in your favorite pumps, you need to follow some recommendations and perform special exercises.
The benefits of wearing shoes with a heel
Before you start training it is necessary to understand what kind of heels there are. After all, this detail of shoes can have a variety of shapes, heights, thickness. A heel looks good on girls of low stature, visually making them taller. Also, these shoes make legs thinner, so they are perfect for beauties with puffy hips.
Models with a low heel are good for everyday wear, because they are not harmful to health. In addition, these shoes are suitable for almost any clothing, looks good on women of high and medium height. Models with a thick heel are suitable for large girls. Such shoes visually reduce the volume of the hips, making the legs thinner and longer.
There are many reasons why you should learn to walk in heels as a model. Such shoes have a lot of undeniable advantages:
increases growth;
Makes a slimmer figure;
visually elongates the legs;
emphasizes a woman's virtues;
Improves posture, because of this visually tightens the chest, and the gait becomes more graceful.
In addition, shoes with a heel make a girl more feminine and attractive, and the admiring glances of men only add self-confidence.
Shoes with a heel accentuate the dignity of a woman
Choosing the right shoes
Before learning to walk in heels, it is necessary to buy the most suitable shoes. Shoes with a comfortable fit are recommended. When choosing a model, first of all you need to pay attention to the location of the heel. It is best if it is exactly under the heel. The heel should not be too thin; to begin with it is advisable to give preference to stable models. Next, you should pay special attention to its size. There are two ways to find the optimal height of the heel at home:
Put on shoes, stand on a flat floor, rise on your toes, measure the distance between the heel and the surface. If it is less than 3 cm, then these shoes are not suitable. The gait will not be feminine and graceful. If the distance is 3-4 centimeters, this option is quite suitable.
Orthopedists recommend the following way to determine the optimal height: measure your foot with a ruler, the resulting figure divided by 4. Example: 22 (foot length): 4 = 5.5 cm. The resulting value – the ideal height of the heel.
The right shoes will allow you to quickly learn to walk in heels as a model, making the learning process at home as comfortable and effective as possible. If you don't succeed the first time, you can start with platform shoes.
First trainings
After choosing the optimal height of the heel, you can begin to hone a beautiful gait. It is not recommended to go out right away. Any hole, step or slope can lead to injuries and falls. For starters, it is better to practice walking on the carpet or a flat parquet at home. This is the only way to feel confident and safe for now. A few tips to help you understand how to learn to walk in high heels:
Wear shoes indoors no more than 1 hour a day. You can do household chores in the meantime.
Don't try to move as fast as you would in regular shoes. You have to walk in small, slow steps. The higher the heel, the smaller they should be.
Feet should not squint at each other. Your socks should be slightly apart as you walk.
Try to keep your feet as straight as possible without bending your knees more than you would in a normal walk.
The heel should reach the floor earlier than the toe. Do not put all the feet at the same time either, the gait will look rude and ridiculous. The weight of the body should move smoothly from the heel to the toe.
It is important to make sure that the center of gravity is shifted slightly forward as in toe walking or inline skating. This helps keep your balance.
The hips should not wiggle too much. This can lead to a loss of balance, followed by a fall. The same applies to the shoulders – they should be as still as possible.
To simplify the task it is necessary to visually draw a straight line and follow it strictly.
Useful exercises
To walk beautifully in heels as a model, you need to train regularly. In addition to wearing shoes in the house, it is also important to develop a sense of balance and learn to overcome obstacles in your way in the form of steps. In addition, there are several exercises that can significantly reduce the process of habituation:
There is nothing like walking in a tight skirt. When training, you should wear a tight knee-length version. The skirt will control the length of the step, preventing you from making too wide a swing. This little trick will allow you to quickly figure out how to walk properly in these shoes.
"The Swallow. By doing this exercise every day, it will be much easier to keep the balance in heeled shoes. You should stand up straight with your arms stretched upward. Then you should bend over so that the torso and arms were parallel to the floor. Raise one leg, it should form a single line with the body and arms. Stay in this pose for as long as possible. Then repeat the same with the second leg.
Walking with a book on your head. This exercise helps to maintain the correct posture and helps to develop balance. You should take a large, heavy book and leave it on your head. To begin with, it is worth trying without shoes to get used to it. After a little practice, make the task more difficult by wearing heels.
Walking in high heels. Such training will help you understand how to learn to walk beautifully in high heels. Climbing the stairs, you need to rely only on the toe, not letting the heel in contact with the surface. Going down, put the heel and the toe at the same time. When walking up stairs, be sure to stick to the railing to avoid falling.
"Baby Step." This exercise is good for daily practice. Its essence is to walk in small steps, similar to baby steps.
Make sure your toes are facing slightly sideways, your pelvis is slightly forward, and your feet are level with each other.
Walking in a tight skirt
Walking with a book on your head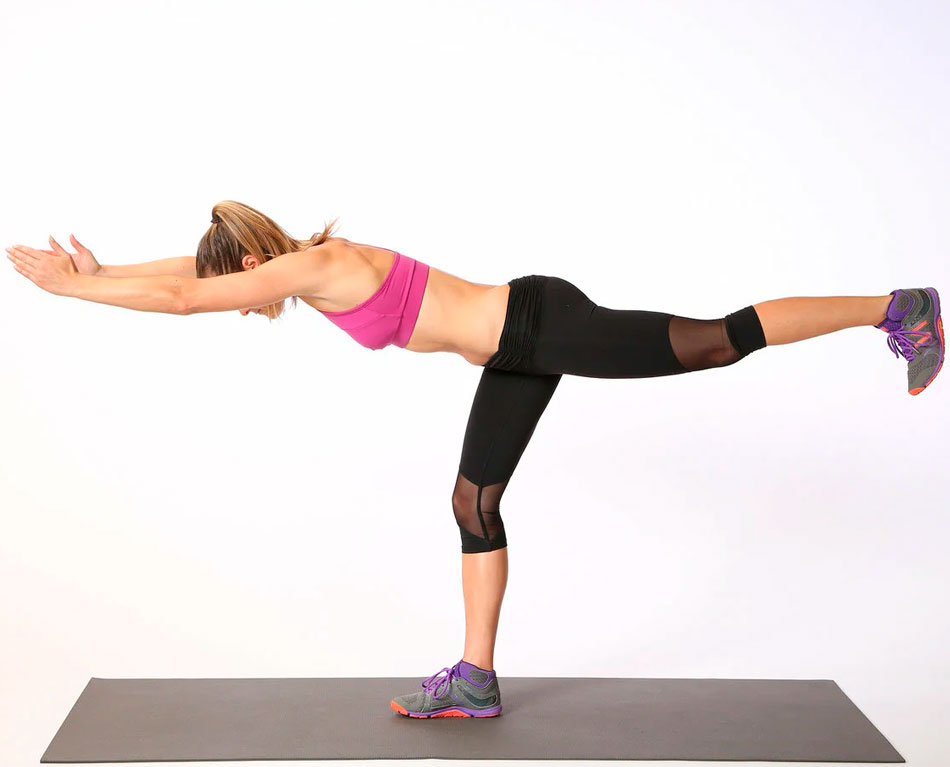 Exercise "Swallow"
What to do if your feet get tired quickly
Heels give a girl grace, femininity, self-confidence. Only fatigue in the legs spoils all the impression. Of course, high-heeled shoes will never surpass ballet shoes in terms of comfort. But there are a few recommendations, following which you can find an answer to the question of how to walk in high heels for a long time and not get tired:
Use special insoles or inserts. In this way you can significantly reduce the strain on your feet. Pads can be used for the front of the foot to reduce fatigue, slippage, squeezed toes in tight shoes, or for the heels.
Models have their own secrets for a beautiful confident gait without feeling tired, and one of them is to distribute the load on the fingers. This method helps girls to endure hours-long rehearsals and look dignified at shows. You need to staple the 2nd and 3rd fingers (starting with the pinky) with a band-aid. This way the load on the nerve located between these fingers is distributed rationally.
It is important to give your feet a rest every chance you get. If possible, you should carry replacement shoes in the form of ballet shoes or flat-soled sandals.
Another effective way is to change position. To prevent foot fatigue, it is advisable to shift the load from one foot to the other. As soon as you feel tired, repeat the action.
Using insoles
Distribution of the load on the fingers
Give your feet a rest every chance you get
Tips from orthopedists
Spinal pain, burning feet, bumps and dropsy are some of the safest consequences of wearing high-heeled shoes for a long time. There are several recommendations from podiatrists to help prevent many dangerous conditions. Wearing stiletto shoes should not exceed 3 hours a day. With the regular use of such shoes occurs deformation of the vertebrae, bones and internal organs. This is due to the fact that the center of gravity is shifted forward. With constant wearing of stilettos, this phenomenon acquires a chronic character. That is, even if a girl no longer wears a high heel, her organs and bones still continue to be in a state of deformation. The same applies to shoes with a heel higher than 6 cm.
Pregnant girls are strictly not recommended to walk in heels. It is fraught with the following consequences:
changes in the position of the uterus and fetus in the womb;
the appearance of stretch marks;
excessive pressure on the pelvic organs, which can lead to the threat of miscarriage;
preterm birth;
severe back pain – during pregnancy the spine is already under double strain, wearing uncomfortable shoes can only worsen the situation;
cramps in the calves;
the development of varicose veins.
When wearing high-heeled shoes, it is advisable to warm up and massage the feet every evening. After a hard day, the first thing to do is to relax the feet by firmly kneading and pressing. After the massage should be well rub them with your palms until a slight burning sensation, roll your feet special balls or any other round object. It will also be useful to prepare a relaxing bath.
Foot massage and warm-up
Relaxing bath
Do not wear to pregnant women
Wear no more than 3 hours a day